Qatar Airways ◦ discount codes ◦ February 2018
Here you can find the latest Qatar Airways promo codes
Pity! This offer has expired, but don't you worry! Check out trending deals at Qatar Airways!
Sign up for the Qatar Airways Privilege Club on this page and enjoy special discounts on your travel experiences with Qatar Airways.
Sign up for Qatar Airways newsletter and receive the latest offers and special deals on flights delivered conveniently to your inbox. Subscribe at the bottom of the landing page.
Visit this flight deals section at Qatar Airways and find newest deals on flights to popular destinations across Asia and around the world. Don't miss out!
Qatar Airways coupons, codes and deals that you've missed:
Similar promo codes, coupons and discounts
Get 10% off on all flights booked at Etihad Airways thanks to this Etihad Airways voucher code. Provide…
Already used by 811 people
Enjoy seasonal promotion campaigns organized for passengers and get even 30% off on selected items. Click…
Already used by 1568 people

ongoing
Fly to UK, Irleand, Canada, Gulf, KSA and other international destinations with Pakistan International…
Already used by 1463 people

ongoing

Head to the landing page to check the latest Emirates Special Offers and get even 50% off. No Emirates…
Already used by 1012 people

ongoing
Check Air Arabia Hot Deals to get even 50% off on slected flights. Click to check the latest promo offers.
Already used by 847 people

ongoing
Book your flight from Karachi to Islamabad at Airblue and pay as little as R8432. Click to check the…
Already used by 1390 people

ongoing
Qatar Airways promo code reviews by Picodi users:
More about Qatar Airways:
Qatar Airways coupons
When it comes to offering best possible travel experience in the air, there are not many airlines that could offer you a better value for money than Qatar Airways which is undoubtedly one of the world's leading airlines offering top quality aviation service to passengers not only in Africa but located all around the world. Regularly noticed by media and prize-awarding global organizations, Qatar Airways has been most recently rewarded for its 5-star service, punctuality and industry leading airport lounges by those who read Nast Traveller's. Apart from that, it is currently "the most liked airline on Facebook and in 2015 was awarded the prestigious prize "Best Up In The Air" during the Future Global Travel Experience. 
Qatar Airways offers you the best possible online travel experience at its newly-designed website Qatarairways.com which is the most visited airline website in the world with approximate 23 million visitors coming from all around the world every month. Although the number may make your jaw drop, it's hardly surprising considering the number of top quality, luxurious flight offers available at prices most of us can afford. And if things weren't exciting enough, you can further reduce the costs of travelling with Qatar Airways thanks to the coupons and coupon codes available at Picodi.com.ng. From now on you will be able to travel to more than 140 destinations located across Europe, Middle East, South Asia, Asia Pacific, Africa, North & South America. 
Qatar Airways is an airline of pretty long-standing tradition as its started the first regional operations as early as in 1994. It was re-launched 3 years later under the mandate of the then Emir, His Highness The Emir Sheikh Hamad bin Khalifa Al Thani. The person responsible for so many successes and worldwide recognition is the Group Chief Executive though - Mr. Akbar Al Baker who has been on the Qatar Airways' board since 1997. With the rapid growth taking place during his reign, as early as in April 2011 Qatar Airways already reached over 100 destinations around the world.
No matter how good it is, there's always a room for improvement and surely that's what Qatar Airways believe in. Despite so much success and worldwide recognition, the staff don't plan to sit on its laurels and it constantly thrives for further improvement. The latest innovation is the brand new version of its website which is visible on the image above. The new look of Qatar Airways features an even bigger level of price transparency for any kind of travel deal as well as a new flight deals section in which you will find more active Qatar Airways coupons and promo codes. What's improved is also the easier to control navigation tool which will enable you to find the information you are looking for even quicker.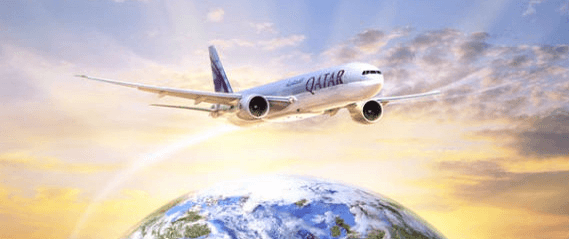 It is worth noting that saving with our Qatar Airways coupons doesn't relate to flights alone. At Qatar Airways you can also book a hotel or rent a car during your stay in one of the many available locations around the world. Booking a flight - because that's what most people do at Qatar Airways - is extremely easy and quick. All you have to do is to specify the city you want to visit, the departure and return (optional) dates and the number of passengers. All of that can be done with just a few clicks on the Qatar Airways homepage. More savings and discounts are available when booking a hotel + flight deal together or when booking a roundtrip flight.
When it comes to payment methods you can use for your ticket booking, there are many available out of which the most popular are: Paypal payments, credit cards and debit cards (Visa, MasterCard, American Express and more). After paying for the tickets you will be sent the ticket vouchers to the email address provided during the checkout process which at the same time is the place where you should enter the Qatar Airways promo code found at Picodi.
Every year Qatar Airways prepares special offers for Black Friday and Cyber Monday. 
All promo codes and discounts for Black Friday 2017 and Cyber Monday 2017 can be found on dedicated special pages.