Soufeel
Do you like wearing jewelry? Would you like to make your collection bigger and bigger without spending much money? Is your friend, mom, girlfriend's birthday soon and you have no idea what to give? No worries! Now you can give yourself or your loved ones the best present ever – a piece of personalized jewelry! Check Soufeel website and see what are your possibilities!
About Soufeel
Soufeel is an international jewelry brand that was founded in 2009. The company offer the best shopping experience for jewelry lovers. The team of the company creates the most beautiful charms, beds, bracelets, and accessories that are personalized for a direct customer. Their offer is based on the competitive prices and the highest quality. Moreover, the brand is known for their class leading guarantee and excellent customer service.
Soufeel products are made of 100% 925 sterling silver. The highest quality of the components is certified with satisfaction guarantee. The brand uses Swarovski crystals and colored gems as main materials. Thanks to that, you'll be able to choose from over 500 designs of charms. Moreover, all charms are interchangeable – here your possibilities of personalizing the jewelry broaden even more! Celebrate your memorable days with Soufeel!
To be a company that is customer-friendly even more, Soufeel as a direct manufacturer offers its products for a small price! There are no various stages between the producers and customer – you pay only for the product! Isn't it awesome? To give more, Soufeel has got a system of rewards for their clients. The brand is certain that their loyalty program is one of a kind. Look:
While creating an account, you give yourself a chance to get more bling by earning points! Moreover, you get an access to exclusive rewards that are not available to other customers! Soufeel's one point is equal with $3 spent on the jewelry and 500 Points change into $50 Reward! It's brilliant!
What can I get at Soufeel?
The offer of Soufeel is enormous! Check out their website and look at the menu. Here you can find categories of products available at the shop. You've got eight major sections to look for the perfect piece of jewelry for you: What's New, Personalized Jewelry, Charms, Bracelets, Rings, Earrings, Necklaces, Gifts. Pick your favorite category and get yourself beautiful jewelry at the best price and quality!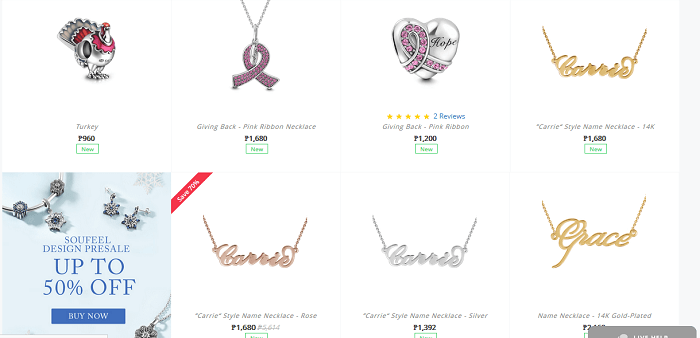 What's New offers a collection of Presale pieces discounted even 50%, and New Arrivals – this is the first place you need to check at Soufeel website!
Personalized Jewelry: here you've got Photo Charms, Engravable Jewelry, Personalized Name Charms, Name Necklaces, and Bar Necklaces – perfect for a birthday presents!
Charms - this is a paradise for charms lovers! All elements in one place! Create your own charm and express yourself through your bracelet!
Bracelets: classic, bangle, leather, charms, or personalized bracelets perfect for every occasion, stylish and trendy! Check hot bracelet fashion and be up-to-date!
Rings: the selection of rings is enormous! From engagement to letter or eternity rings! You must have them!
Earrings: here you have two options: very fashionable studs or traditional dangle & drop. Check it out!
Necklaces: name, bar, monogram, charm, or crystal necklaces designed carefully for your satisfaction. Get yourself one and look trendy and stylish!
To encourage you to the purchase, Soufeel offers free delivery! It's available on orders over ₱4,320 and you can have it right now! Sign up to the newsletter, create an account at Soufeel online shop and make your jewelry dreams come true!
If you want to get more promos and info from Soufeel, check out their social media: Facebook, Twitter, You Tube, Pinterest, Instagram.