Would you like to re-furnish your house? Do you need new house accessories? Is your closet out of fashion? Do you need new, fashionable clothes at a reasonable price? Make your purchase at Macy's – US largest department store! 
About Macy's
The company started as a small fancy dry foods store founded in 1858 on the corner of 14th Street and 6th Avenue in New York City. Nowadays, American chain of stores is known internationally for its niche in popular culture and the variety of products offered. Macy's has an enormous collection of private brands produced for exclusive sales at their stores. These brands vary from "labels" and they are fully developed products with the target at specific customers. Macy's is the 15th largest retailer in the United States with 730 stores and online store. 
Macy's Offer
The offer proposed by Macy's is enormous. From home essentials, through clothes, jewelery, shoes, and accessories. Check out the page and look for sections! You can have products of Macy's own brand or brands known worldwide, e.g. Adidas, Champion, Michael Kors, Nike, Puma, The North Face and more). Clothing items are divided into three sections: women, men and kids. You can have all garments at the best prices! The adverts at the online store show what's in fashion – it's helpful to get an info of so called "must-have" clothes! To save more, the shop prepared "Clearance" sections. You can buy goods 40%-70% OFF the price!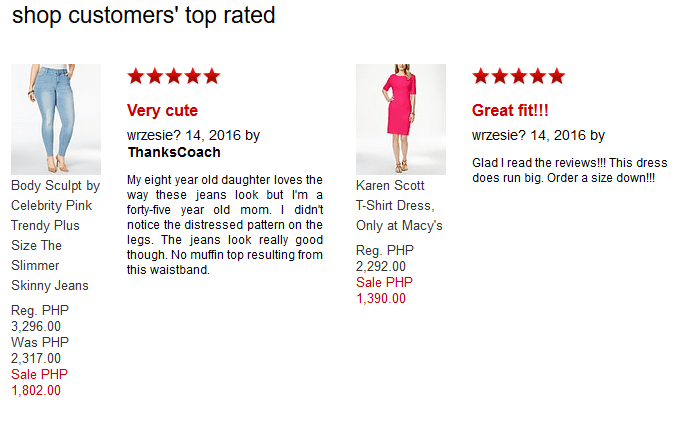 Macy's online shop bring on something special – customers can leave their reviews of purchased goods! It's a great idea! These reviews help you to make the right choice. Look for reviews at "Shop's Customers Top-Rated" section.
Macy's Promo Codes
Have you got a promo code to Macy's? Open "Your Shopping Bag" and apply your promo code in the box. Look below:
How simple is that? Get your promo code: sign up for the newsletter and get 15% OFF on your purchase! 

Be Happy Being You At Macy's: