LightInTheBox ◦ promo codes ◦ October 2017
Here you can find the latest LightInTheBox coupons
Get this outstanding deal from LightInTheBox. Let the holiday season begin early - get up to 70% off and 100$ voucher. Click and check the offer on the landing page.
Go to the landing page and check out Flash Sale section at LightInTheBox. You can get up to 90% off on items such as beauty and hair accessories, toys, small gadgets and more! Click to enter the discount area.
Sign up to LightInTheBox newsletter and enjoy getting special benefits delivered straight to your mailbox. Search for newsletter section at the bottom of the landing page.
LightInTheBox coupons, codes and deals that you've missed:
Shop selected women's dresses from the landing page to save even 70% off. No LightInTheBox promo code is needed here.
Shop Spring & Summer Fashion Jewelry Clearance Sale at LightInTheBox to get even 50% off. This offer is time-limited - don't miss out!
Only at Picodi Nigeria! Spend minimum $95 on your order at Light In The Box and use this exclusive promo code upon payment tab to receive $10 off. Don't miss out!
Similar promo codes, coupons and discounts
Check the latest promo offers on land in Nigeria to save up to 30% off or get some extra gifts for free.…
Already used by 14 people

ongoing
Subscribe for newsletter at Mystore and be the first one to receive the best discounts, special offers…
Already used by 2 people

ongoing
LightInTheBox promo code reviews by Picodi users:
shop.opinion.alert.success.label shop.opinion.alert-description.success.label
shop.opinion.alert.error.label shop.opinion.alert-description.error.label
More about LightInTheBox:
About Light In The Box
Light In The Box is a global online retail company. It was founded in 2007 in China. The store sells lifestyle products in over 200 countries and their website is available in 22 languages.
Their variety is really impressive, it includes more than a million items. In this store you can find a wedding dress, a case for your iPhone and a shower faucet. That's how diversified their stock is!
These are the main categories of their product:
Weddings & Events
Fashion & Jewelry
Phones & Electronics
Home & Garden
Shoes & Bags
Sports & Lifestyle
Beauty & Hair
Cell Phone Accessories
Cool Gadgets – this one will redirect you to the Mini In the Box website.
You can also look at the Premium Brands, Flash Sale or Summer Sale. If you know what you want to buy and don't want to waste time on browsing through categories the website has its search engine right in the middle of their homepage where you can enter what you are looking for.
Light in The Box cares about its customers. They provide customer service and help from native speakers in 27 languages. However, if you have a question first see their FAQ, the answer might be there! What's more the returns are guaranteed to be free within 30 days, they work with the most secure payment provider and they never store your credit card information.
When entering a certain category you can adjust the results of the search by setting some filters: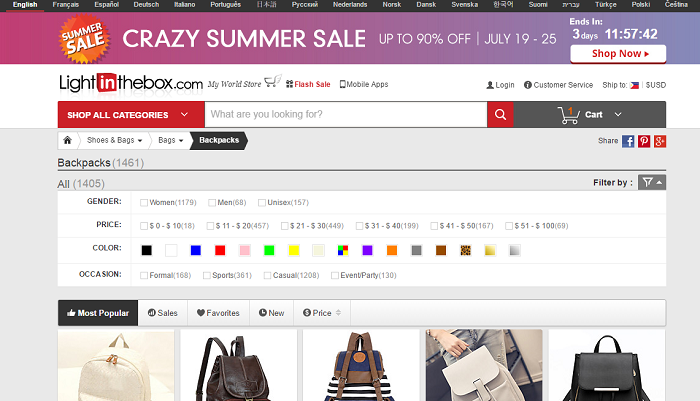 Light in The Box has also some other cool features. For example there are Rewards, which means that you earn 1% on every purchase. So when you do more shopping you earn more and you can later use that money on future purchase. Another convenient thing is the mobile app. They have three, all available for both iPhone and Android! One for Light In The Box solely, then one for Mini In The Box and another for Flash so your shopping can be quick and easy! What is also useful is the Personal Center for every customer. Thanks to that, after creating an account you have everything in one place. You can view all your orders, your favorites or your rewards and credit at any time!
Shopping and using Light In The Box discount codes
Let's do some shopping now, shall we? To use promotional codes and discounts, first go to picodi.com and search for "Light In The Box". Go through all the displayed offers and choose the one that is the most rewarding for you. There is either a deal or a discount code. The deal will redirect you to the discount area on Light In the Box website. The code has to be used at the end of shopping. Remember before you pick one: blue picture and "promo" means the discounts on the website, red picture and "code" means reducing the total price for the purchase at checkout.
If you chose the discount code, first click "Reveal the Code" and copy the code that will appear. Then go to lightinthebox.com. On the website you should first select your country, language and the currency in which the prices should be displayed for you. After that you can go looking for something nice to buy.
When you find something you like, click on the item. You will see some pictures of the product and other details about it. If you wish to buy it, choose the color and quantity and click "Add to Cart". You can go back shopping. After you finish click "Cart" to view your total purchase.
There you can still edit the items that you have chosen, however, if everything is right, select "Proceed to Checkout". After that you have to create an account. It takes couple of seconds, just write your email address and password, that's it. In checkout there are several things you have to do. First you should give your name, phone number and shipping address. Then review your cart summary, select the shipping method and decide whether you want shipping insurance or not. After that, choose payment method and finally use your promo code. Click on "Apply coupon code" at the bottom of the box for selecting the payment method. Look at the picture below to locate it:
Check if everything you wrote is correct. If it is click "Place Your Order", pay and that's all!
Now all is left to do is wait for your order to arrive. Light In The Box guarantees fast delivery, they provide global shipping in 3 to 5 days.
Take a look at the Light in The Box convertible dress here: