More about Manhattan Fish Market:
Manhattan Fish Market discounts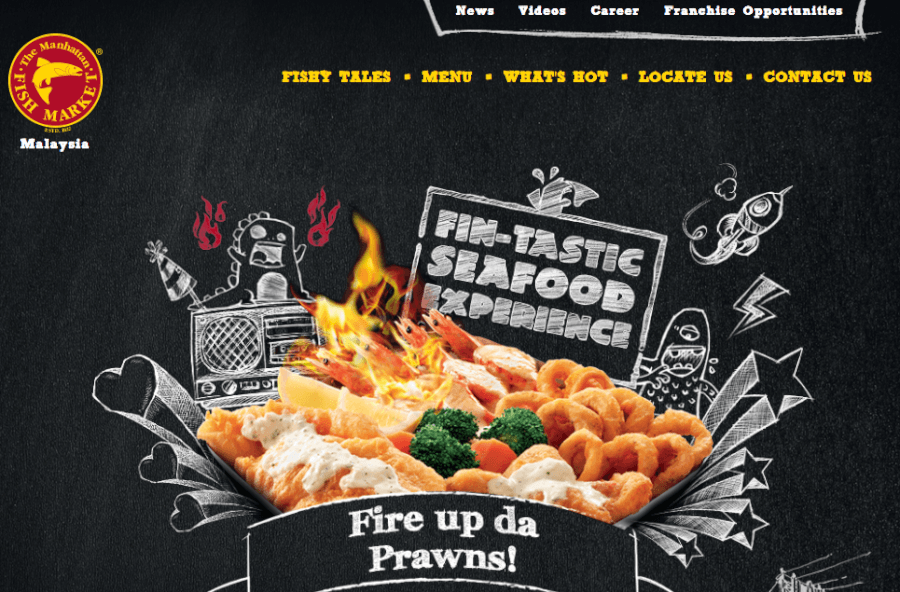 About The Manhattan Fish Market in Malaysia
The Manhattan Fish Market in Malaysia has made a lasting impression on all sea food lovers in the country. Its success and its regional popularity are attributed to its flavoured, fresh and truly innovative offerings. It is not only made its mark in Malaysia but has served in more than seventy restaurants in Asia and Middle East. The countries it is operating include Malaysia, Thailand, Myanmar, Japan, Qatar, Brunei, Singapore, Indonesia, Sri Lanka, Oman, Bangladesh, United Arab Emirates and Maldives. Sea food lovers will be served tasty, lip-smacking seafood in American style at the Manhattan Fish Market. Its famous offerings are the `Manhattan Fish n' Chips', the `Garlic Herb Mussels' and the famous `Manhattan Flaming Seafood Platter'.
Iconic Inspiration
The main inspiration for the Manhattan Fish Market in Malaysia has come from the iconic Fulton Fish Market that is located below the Brooklyn Bridge in New York City. This particular fish market had the reputation of housing diverse collections of the fresh seafood catch of a particular day. Seafood buffs came to this place from far and wide.
What is unique about the Manhattan Fish Market?
This Fish Market has never ceased to impress Malaysians with its unique sauces much in the same way Nandos is doing it with the Peri-Peri sauces. The sauces are made with their distinct recipes and the most popular is the Garlic Herb Sauce which is made out of fragrant herbs. The trained staff at the restaurant is known as Sea-Cret Agents whose main job is to make sure that each guest is leaving with a satisfactory dining experience. The Fish Market has become extremely popular for whetting the appetite of guests with on-the-spot flaming of the Flaming Prawns.
Fabulous Ways of Serving Seafood
The Manhattan Fish Market believes in serving seafood in five fabulous ways – flamed, poached, grilled, baked and fried. Flaming is the signature style cooking here and it comes with showmanship bravura. It also brings out the caramelized flavour of seafood, mainly because of the flames. Poaching the seafood preserves its moisture and its flavours so that it can be enjoyed to the full. Grilling brings about a thrill and it also extracts the rich seafood taste. When seafood is baked in foil, it helps in sealing the flavour and the aroma within it and allows savouring the goodness with each bite. When seafood receives a batter coating, it is made crunchy on the outside much like Kentucky Fried Chicken while the juicy tenderness of the inside is locked in.
Discount Codes and Special Offers
Here are some of the striking deals offered by the Manhattan Fish Market -
Bersama-Sama Meal for only RM 6.90 with a savings of RM 12.90
Sylok Seafood Platter for only RM 67.90
Dine-Amite Giant King Crab with Lemongrass Sauce for only RM 187.90
All these offers could be activated by visiting http://www.manhattanfishmarket.com/malaysia/my-whats-hot.html