Everything you need for your PC in one place
In the modern world basically the majority of the work we do on a daily basis circle around PCs and all the technology related to it. And even if your day job doesn't require the use of this device, it's statistically proven that 98,5% of earth's population uses a computer every day. That's... a lot!
And, since the computer technology has started to play such an important and huge part in our lives, we might as well make sure we are using the best quality products available on the market to enjoy the experience - whatever for work or personal use. Without a doubt, HP is your place to go for products that can be affordable but top quality at the same time.
HP Inc. (that's the full name of the company) is an organization of American origin that specialises in developing personal computers, printers (including 3D printing solutions) and all the related supplies that can improve your overall computer experience.
Theoretically speaking, we could say that the company is pretty new as the name is present in the computer & technology industry from 2015. But in reality, the year 2015 was simply the year of renaming a brand that's been with us for nearly 80 years. The company under its original name, Hewlett-Packard, was created on the 1st of January 1939. Believe it or not, Hewlett-Packard was created by two friends Bill Hewlett and David Packard in a one-car garage in the American city of Palo Alto.
Of course, at the start of the HP's journey, computer technology was non-existent so the company started its business activity by selling electronic test equipment. From the moment of its foundation until the modern age industry, HP has been providing the best quality products for customers all around the world.
Probably the biggest recognition the company can boast about up until today is the fact that it was the world's leading PC manufacturer for 6 years, during 2007 and 2013. Nowadays HP finds itself behind another technology giant, Lenovo, but the products on offer are as good as ever.
HP products
It doesn't really matter if you are looking for equipment for personal use or one that will improve your work performance - HP has got you covered. With a large selection of products that will satisfy even the neediest tech geeks, it's without a doubt the go-to destination for computers and technology that include:
Laptops are probably the products HP is renowned for the most. And, despite the undoubted quality of those, people new to HP might be surprised about the low prices that the laptops are available at.
In the HP laptop section, you can find laptops available for as little as RM 1,400. An example of such a cheap product choice is the HP Notebook 14-bw053au. Find the notebook's parameters below.
AMD Dual-Core A6-9220 APU (2.5 GHz base frequency, up to 2.9 GHz burst frequency, 1 MB cache)
Windows 10 Home Single Language 64
14" diagonal HD SVA BrightView WLED-backlit (1366 x 768)
4 GB DDR4-1866 SDRAM (1 x 4 GB); 500 GB 5400 rpm SATA
AMD Radeon™ R4 Graphics
Doesn't it sound like a good value for money?
These are dedicated to the more demanding group of HP customers. Workstations are basically more advanced versions of laptops and other types of PCs (personal computers). By more advanced, we simply mean that they come with better parameters that will handle more demanding tasks from your side.
HP workstations are mostly used for bigger business projects although they are known to be highly popular amongst people into best gaming experience as well. HP workstations start at noticeably bigger prices than standard laptops and currently, the cheapest option you can find in the HP online store is HP ZBook 14u G4 Mobile Workstation available at RM 4,871.
7th Generation Intel® Core™ i7-7500U Processor
Windows 10 Pro 64
14" diagonal FHD SVA anti-glare (1920 x 1080)
8 GB DDR4-2133 SDRAM (1 x 8 GB), 1 TB 5400 rpm SATA
AMD FirePro™ W4190M (2 GB dedicated GDDR5)
These sound fun! Imagine having the powerful functions of a laptop and a touch-screen, compact design in one? Now it's possible thanks to the 2-in-1 collection available at HP Malaysia.
Since it sounds super fancy you probably think that the price is also of a higher magnitude - you couldn't be more wrong! HP 2-in-1s are available even for as little as RM 2,358. The model available for this price is HP Pavilion x360 - 14-cd0021tx.
8th Generation Intel® Core™ i3-8130U Processor
Windows 10 Home Single Language 64
14" diagonal HD SVA micro-edge WLED-backlit multitouch-enabled edge-to-edge glass (1366 x 768)
4 GB DDR4-2400 SDRAM (1 x 4 GB); 500 GB 5400 rpm SATA
NVIDIA® GeForce® MX130 (2 GB GDDR5 dedicated)
Believe it or not, some years ago laptops and tablets were non-existent. The only device used to complete one's work was a desktop computer. Some people, despite the advancement of technology over the years and the general trend of everything becoming portable, still prefer the "old-school" way.
Another reason for people sticking with desktop computers is that they are noticeably cheaper - the difference in price while shopping for a laptop or/and desktop with good parameters is quite huge. At HP Malaysia, you can get yourself a really solid desktop for less than RM2,000. Actually, this HP All-in-One model 20-c409d you can see below seems like an absolute bargain, considering its stylish design and respectable parameters: 
Intel® Celeron® J4005 Processor
Windows 10 Home Single Language 64
19.5" diagonal FHD IPS anti-glare WLED-backlit (1920 x 1080)
4 GB DDR4-2400 SDRAM (1 x 4 GB); 500 GB 7200 rpm SATA
Intel® UHD Graphics 600
All the types of computers we have described above are easy to find on HP Malaysia's website but, should you have further preferences regarding what you need the product for, you can sort them according to:
screen size (less than 11.6'' - 12"-14'' - more than 14'')
special features (touchscreen, solid state drive, dedicated graphic)
computing power
range (home use, business use, gaming use)
Computers, as mentioned above, are not the only type of top quality products on offer at HP Malaysia. Apart from these, there is a broad selection of equipment waiting for you. Products that will perfectly tune in with HP computers include:
HP Malaysia are probably as known for producing unrivalled printers and accessories that go with them as they are for their computers. There are different types of printers available at HP and you can differentiate between them according to:
range (home use, enterprise, business, scanners)
technology (inkjet, laserjet, large format and more)
printing functions (print only, print & scan & copy, print & scan & copy & fax)
special features (wireless, mobile, A3 printing)
Despite the unmatched quality of these, if you look closely enough at the HP online store, you can find printers available for as low as RM140.
Of course, when buying an HP printer at the online store you can make sure it comes with all the necessary accessories. HP Malaysia offers a great selection of Inks, Toners and Papers.

Another collection of products loved by HP Malaysia customers. HP offers a wide range of super functional PC screens starting at just RM320. Depending on the space you can afford to use for your monitor at your home or office as well as more specific preferences, you can select from products depending on their:
screen size (less than 22", 23" - 24", more than 27")
primary use (home or business)
resolution (HD, HD+, Full HD, Quad HD, Ultra HD, Ultra Wide Quad HD)
connectivity (display port, DVI, HDMI, MHL, USB port, VGA)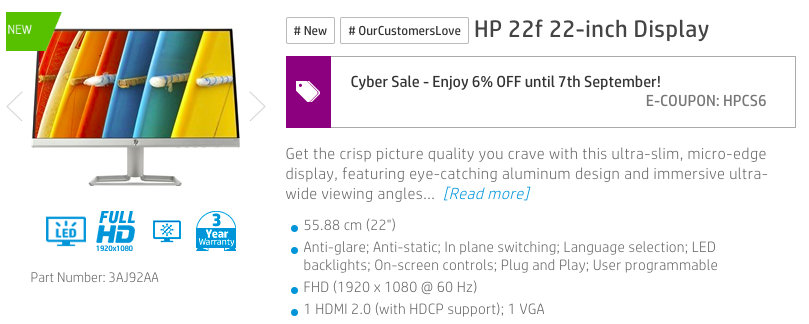 Apart from all of the above-mentioned products, HP offers a huge selection of HP accessories. The "must-haves" include mice, keyboards, batteries, chargers although there's much more available in the 
HP accessories section. On top of all of that, you can learn more about Extended Warranty you can purchase basically on any product you wish to buy at HP Malaysia (it's especially recommended when buying more expensive items).
HP Delivery
Now if you thought that the prices on the products listed above are super low, wait for this piece of great news... HP offers free delivery on all orders without a minimum spend required. Yes, you read that right - no minimum spend needed to enjoy free HP shipping right to your doorstep! 
Should the products you selected at the HP Malaysia store be available in stock, they will get dispatched on the very same working day (assuming you placed your order before 11 AM - orders placed after 11 AM are dispatched the next business day).
Delivery time
Depending on your location in Malaysia, your delivery length might vary. 
Residents of Kangar, Alor Setar, George Town, Kota Bahru, Kuala Terengganu, Ipoh, Shah Alam, Kuantan, Kuala Lumpur, Putrajaya, Seremban, Malacca City, Johor Bharu, Labuan, Kota Kinabalu, Kuching, Cyberjaya, Petaling Jaya can be sure about enjoying a next day delivery (total delivery time = 1 day).
1 to 2 business days delivery time is estimated for people located in one of Selangor/Shah Alam, Pahang/Kuantan, Kuala Lumpur, Putrajaya.
It takes 2 to 3 days for your order to be delivered if you are a resident of Perlis/Kangar, Kedah/Alor Setar, Pinang/George Town, Kelantan/Kota Bharu, Terengganu, Pahang/Kuantan, Perak/IpohPehang/Kuantan/Cameron Islands/Genting Highlands, Negeri Sembilan/Seremban, Melaka or Johor/Johor Bharu.
The longest for their order to be delivered have to wait people leaving in areas of Labuan, Sabah/Kota Kinabalu, Sarawak/Kuching - it's between 6 to 10 business days.
HP payment methods
Currently, there are two payment methods accepted by Paypal. One of the methods, preferred by more and more customers, is Paypal. Paypal is a secure and fast payment option but, still, not all HP customers use it.
If you don't happen to own a Paypal account yet, you can pay using one of the credit cards: Visa, MasterCard or American Express. Unfortunately, at this moment in time, you can't pay with your debit cards.
HP promotions
To make sure you stay up to date with all HP promotions, anytime you want to check their availability, you should go to Google and type "Picodi HP Malaysia promotion". This way you will make sure you land on a page that's listing only the legit and working HP coupons.
HP offers various promotions throughout the year but there are periods when savings can reach up to 50% off the original product's price. Definitely, the most attractive period savings-wise at HP is Black Friday. 
Black Friday is a global sale event celebrated every year on the last Friday of November. On top of sitewide discounts you can find at HP Malaysia website during the event, there's also a good chance there will be some Black Friday promo codes going around that will let you save even more.