ASOS - hottest offers for summer days
Global fashion shopping has never been so exciting - at ASOS.com you can chat with professional fashion stylists who work for them! This e-commerce service has started in 2000 and since then has been awarded a plentiful of prizes for Fashion Innovation, best e-tailer, etc. It has even been given a title "the Most Addictive Online Shopping Site" (More Magazine fashion awards in 2006), and truly nothing has changed since then! The service is continuously tempting us with special offers, exciting sal, s and promo deals! As many as 850 fashion brands are available there - why not discover all of them?
Apart from an extremely wide choice (almost a thousand!) of both men and women top-fashion brands in stock, ASOS is also a prominent fashion label itself. Now the brand has its own fourteen respective lines, among them vintage clothes, apparel for both tall and petite ladies, maternity collection, shoes and jeans lines as well as ethnic and cocktail party series or the very feminine and seductive ASOS Salon dresses collection! Additionally, ASOS has its own brand of beauty and make-up products. For men, the label offers the multiple solutions for literally all occasions - from slim fit and tuxedo suits, through less formal jeans and blazers to cozy hoodies and comfy flip-flops. Yes, ASOS can dress any young woman and man from head to toe! Product type, brand, size, price range, and colour - all the items are defined precisely and no one would have any trouble browsing and then finding the look they want.
If you have a low clothes budget, at ASOS it is quite easy to find a product within your means. Just select a category and a price limit - now, you can even find a trendy, elegant dress that just fits your size and costs much less than you would have expected! Designers' leather bags and top-quality sunglasses are there, too. Just see now, what the shop holds for you - satisfaction guaranteed! When you're just 'window shopping' at Asos, there is also a 'save for later' function (see the picture below).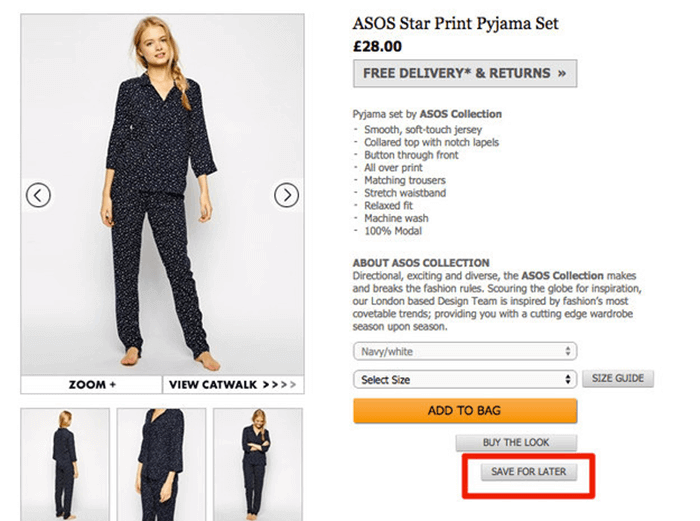 This very function may be helpful when you eventually grab your own asos discount code and then pay less for the data-style of your dreams! Don't forget about the free worldwide delivery service - it can make your fashion shopping more economic and smart! And if you're a student, it pays to apply for a NUS Extra card or to become a UNiDAYS member - there are special discounts waiting for you!
7 smart tips on discount shopping on ASOS.com
1. Are you a coupon fan? Fashion lovers like sales and special offers. It's trendy to browse Picodi.sg - here you can grab the best deals and discount vouchers. Shop data-style and save money! If you have found an offer for you, just click the respective banner and follow the instructions.
2.Register at ASOS.com. If you are afraid to forget your password, social signup may help. After all, you are always logged into your Facebook, Google Plus or Twitter account.
Just one of them is enough - you don't have to be a social media geek who uses multiple platforms. However, if you sometimes look for photos on Instagram, Tt or FB, just type the #AsSeenOnMe hashtag. You then can see a lot of fans who post photos of themselves in clothes or other fashion accessories bought at Asos. Maybe some of them will inspire you? You can also add your own look to the gallery, using the asos.com website and photos either from your computer's drive or from social media channels!
3. When on the page, look for sale items and set a price range. You can also sort the items by price, both lowest to highest and the other way round. Fill your shopping bag with the items you love!
4. There's a certain minimum purchase worth for free delivery. Make sure your items are not less than 50 SGD - you'll have your shopping delivered within two weeks' time, and you don't have to pay for it!
5. You have to remember that your stock is reserved only for 60 minutes. Just review your shopping bag and then click or tap the 'pay securely now' banner. As for paying, you can do it with your PayPal or with MasterCard, Visa, American Express and Maestro Credit Card.
6. For Asos promo codes owners: place your orders at the checkout. There is a special box in the 'confirm and pay' section. Now click the arrow at the right side - the voucher code gap appears. Now it's the time for entering the code - type the exact phrase, with no blank spaces.
7. That's all for now - if you have chosen free delivery, remember it usually takes 14-days. Enjoy your new data-style with ASOS!
Summer's coming - what about buying more fashionable items? With Picodi.com/ie coupons, you'll truly fall in love with New Look, Bershka and Dorothy Perkins collections!